Product Detail
Product Tags
■ Pure physical separation without using any chemicals.
■ Tin alloy separation rate is up to 98%.
■ The recycled solder bar can be directly use for wave soldering.
■ Compact in size, all stainless steel and is easy to maintain.
■ Patented mixing and separation system for improved separation efficiency.
■ Solder pot is made of corrosion resisting ss 316L material with has a long service life.
■ The unit uses a "U" shape heater covered cast iron heating plate, which will avoid deformation.
■ OMRON temperature controller and SSR relay ensure accurate temperature control and long service life.
■ HMI+ Touch screen control, easy to operate and process control.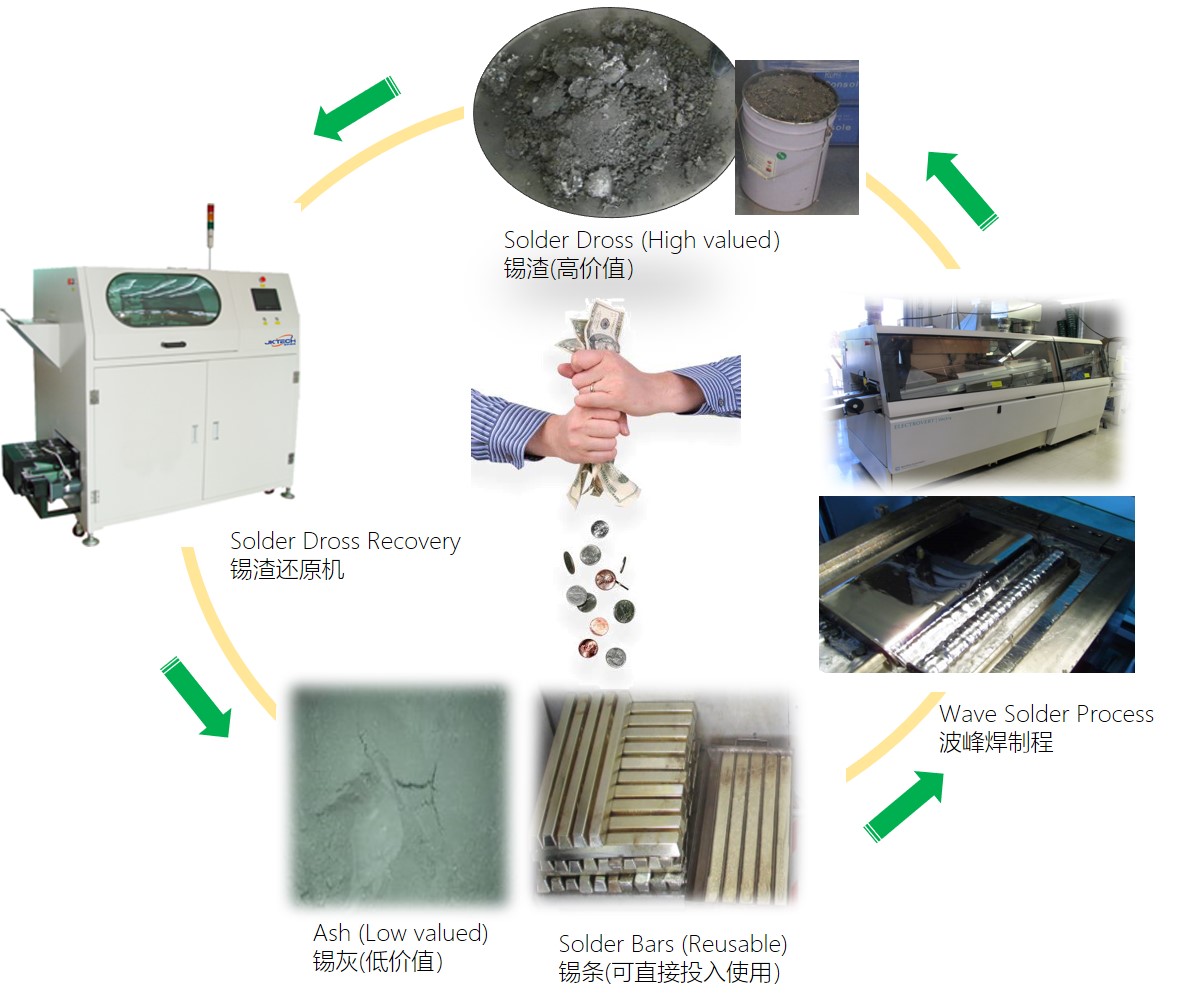 ■ Machine will discharge the solder and form the solder bars automatically when separated solder is in the cabin and reaches the full volume
■ Hourly reclaim capacity is about 30~50Kg solder dross.
■ Machine is equipped automatic molding tray conveyor, each solder bars weights about 1kg which are convenient for using.
■ Separated tin oxide ash will collect in separate box, for easy disposal;
■ Short asset payback period.
■ CE is optional and available.
■ 13 years of R&D and sales in WW.
If you are interested in our products, please email to Sales@jinke-tech.com
Model

SD800

SD10MS

SD09F

Power Supply

3P  4¢ 380V @50HZ

1phase 220v @50HZ

1phase 220v @50HZ

Connected Power

5.8KW

4.5KW

2KW

Normal Running Power

1.8KW

1.5KW

1.0KW

Bottom Tin Capacity of Mixing Zone

100Kg

70Kg

10Kg

Heating-up Time

60mins

60mins

50mins

Controlling System

HMI+PID

PID + Buttons

PID + Buttons

Reclaim Capacity

30Kg/Hr.

15Kg/Hr.

6Kg/Hr.

Solder Bar Molding Tray

Automatic forming

2 EA

2 EA

Net Weight Approx.

500Kg

110Kg

45Kg

Dimension (LxWxH mm)

1800x1050x1600

680 x 850 x1050

500x250x650

140x330x390
---
---
Write your message here and send it to us